Giant Pandas Are No Longer Considered Endangered, So Not Everything Sucks!
If "life is terrible and everything hurts" is something that often comes out of your face, we have good news for you!
News about anything that isn't psychologically damaging is hard to come by these days, but monitoring agencies have officially declared that the giant panda is no longer endangered, since numbers are rising in the wild. See? Life doesn't have to be the worst!
According to IUCN Red List, the giant panda has gone from being listed as endangered to being listed as vulnerable. I mean, aren't we all?
Because of forest protection and reforestation, the number of giant pandas in the wild has increased.
As it turns out, the Chinese government actually pulled through in the "save this inexplicably cute species from extinction, thank you so much" department.
Needless to say, society at large is pretty freakin' pumped about it.
Do you ❤️ 🐼? Then you're going to love this. RT to spread this wonderful news! https://t.co/Ao3HCDPTWJ pic.twitter.com/BIgQhdzvCI

— WWF (@WWF) September 5, 2016
The giant panda has been upgraded from endangered to vulnerable on the Red List of Threatened Species https://t.co/ZwYHdhz2CW

— National Geographic (@NatGeo) September 6, 2016
And some actual good news: Giant pandas are no longer endangered! https://t.co/1Uf6h0DJZE pic.twitter.com/wg6cGdYsyv

— BuzzFeed News (@BuzzFeedNews) September 6, 2016
While some argue that it's too early to remove them from the list, the World Wildlife Fund says, in fewer words, that we should all get our FULL LIFE to the fact that these little bundles of joy are doing better! Basic motor skills might not be their jam, but who even cares?
That being said, I feel that it is my responsibility as Debbie Downer in Chief to inform you that climate change could wipe out 35 percent of the giant panda's food supply over the next 80 years.
Anyway, back to the happiness. Congrats, pandas, on being great! You might be bumbling messes, but that's okay. We love you for it.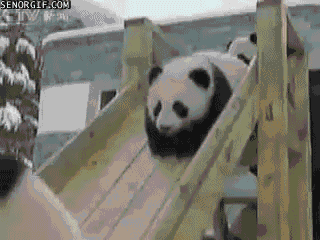 For more information on a few other animals that are sashaying away from extinction, check out IUCN Red List's full report here.
VIA : http://www.viralnova.com